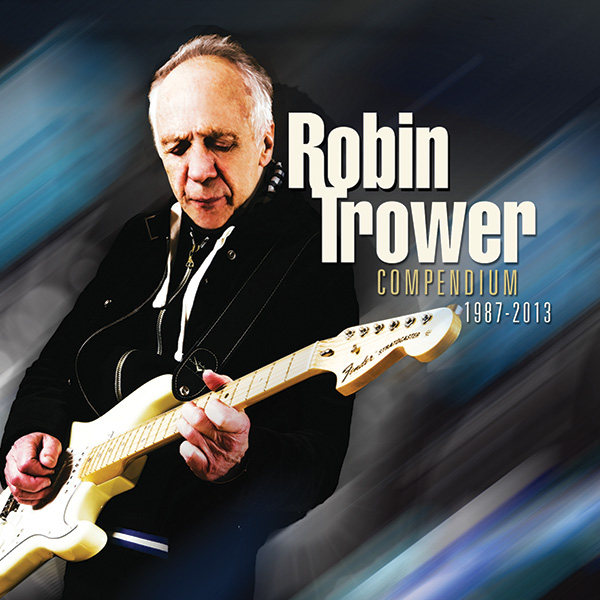 Compendium (1987-2013)
Audio CD (December 3, 2013)
Number of Discs: 2
Format: Import
Label: Repertoire
ASIN: B00G0AJHHQ
"Estou feliz com o que eu estou fazendo, porque eu estou fazendo a música que eu quero fazer, e é aí que toda a satisfação realmente vem." (Robin Trower, 2013)
Trower nasceu em Catford, sudeste de Londres, Inglaterra 9 March 1945 (age 68) e cresceu na estância balnear de Southend-on-Sea, Essex. Em 1962, Trower formou um grupo que se tornou a Paramounts, mais tarde incluindo aluno Westcliff High School de Gary Brooker. Os Paramounts dissolvida em 1966 para prosseguir os projectos individuais. Durante este tempo, Trower criou uma banda de três peças local chamado 'The Jam' (não confundir com o grupo mais tarde com Paul Weller). Trower, em seguida, se juntou a nova banda de Brooker Procol Harum após o sucesso de seu single de estréia, "A Whiter Shade of Pale", em 1967, permanecendo com eles até 1971 e aparecendo em cinco primeiros álbuns do Procol Harum.
Antes de lançar a sua própria banda de mesmo nome, ele se juntou a cantora Frankie Miller, o baixista James Dewar, eo ex-baterista Clive Bunker Jethro Tull para formar a curta duração de combinação Jude. Este conjunto não registrou e logo se separaram.
Trower manteve Dewar como seu baixista, que assumiu os vocais principais, bem como, e recrutou o baterista Reg Isidore (mais tarde substituído por Bill Lordan) para formar a Robin Trower Band em 1973.
James Dewar Robin Trower Reg Isidore
Talvez álbum mais famoso de Trower é Bridge of Sighs (1974) Este álbum, juntamente com os seus primeiro e terceiro álbuns solo, foi produzido por seu ex-companheiro de banda Procol Harum, organista Matthew Fisher. Apesar das diferenças, o trabalho power trio inicial de Trower foi notado por influências Hendrixesque.
Trower é um guitarrista influente que inspirou outras lendas da guitarra como Robert Fripp, que o elogiou por suas curvas e da qualidade de seus sons, e teve aulas com ele.
A Repertoire Records esta lançando uma coletania do periodo 1987-2013 - chamada>
ROBIN TROWER
Compendium (1987-2013)
Audio CD (December 3, 2013)
Aqui está uma nova coleção verdadeiramente notável de algumas das melhores gravações de um dos heróis da guitarra mais admiradas do rock. Este conjunto de CD duplo compreende 35 faixas recolhidas a partir de uma série de gravações originais lançados entre 1987-2013, agora todos juntos pela primeira vez em um álbum. Nossa lista é executado a partir de seu primeiro álbum de estúdio depois de deixar Chrysalis Records, "'Passion'" de 1987, com as últimas ''Roots And Branches' "conceituados, um álbum de covers e originais de inspiração retrô que homenageia raízes blues do Trower.
esta uma boa oportunidade para conhecer seu trabalho após os anos 70', e para ver que tem muita coisa boas feitas por ele até hoje. Habilmente remasterizado. Som excelente - reprodução de alta qualidade.
TRACKLIST
CD 1
01. Inside Out
02. Freefall
03. Too Much Joy
04. Seven Moons
05. The Playful Heart
06. Please Tell Me
07. The Turning
08. Tear It Up
09. Passion
10. The Last Door
11. The Thrill Is Gone
12. If Forever
13. Not Inside – Outside
14. Looking For A True Love
15. Crossroads
16. Prisoner Of Love
17. Go My Way
CD 2:
01. Dressed In Gold
02. Breathless
03. Prince Of Shattered Dreams
04. Another Time Another Place
05. 20th Century Blues
06. Living Out Of Time
07. So Far To Yesterday
08. Blue For Soul
09. Don't Lose Faith in Tomorrow
10. Next In Line
11. Sleeping On The Moon
12. Once The Spell Is Broken
13. See My Life
14. Sea Of Love
15. Wish You Were Mine
16. Secret Place
17. Just Another Day
18. No Time
Uma boa dica para este final de ano..............
Robin Trower

.

Compendium

(

1987

-

2013

). "I'm happy in what I'm doing, because I'm making the music I want to make, and that's where all the satisfaction really ...

Robin Trower Compendium 1987

-

2013

1 Reply. Started by John Fell in General Discussions. Last reply by zebra03 on Wednesday.

Robin Leonard Trower (born 9 March 1945) is an English rock guitarist and vocalist who...

Robin Trower

was dropped from Chrysalis Records afterwards. ... Victims of the Fury; 1983 Back It Up;

1987

Passion; 1988 Take What You Need; 1990 In the Line of Fire .... This page was last modified on 3 November

2013

at 07:48.
*****************************************************