| | | | | | | |
| --- | --- | --- | --- | --- | --- | --- |
| Jean Michel Jarre | 3,500,000 | Oxygen In Moscow | Moscow/1997 | Jean Michel Jarre,Francis Rimbert,Dominique Perrier,Cristophe Papendiek,Laurent Faucheux,Dominique Mahut, Moscow City Choir & Orchestra | 850th Birthday of Moscow, Aircraft Maneuver, 4th entry of Jarre to Guinness book | Central TV (Moscow)[ |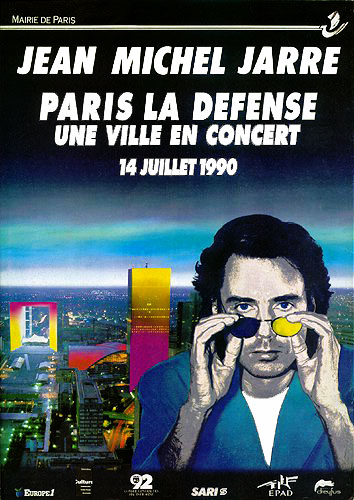 Jean Michel Jarre
1,200,000
Concert for Tolerance
Paris/1995
Jean Michel Jarre
MMTV[

citation needed

]
Concert
Pour La
Tolérance 1995
Musician:
• Jean Michel Jarre (synthétiseurs)
• Dominique Perrier (synthétiseurs)
• Francis Rimbert (synthétiseurs)
• Sylvain Durand (synthétiseurs)
• Laurent Faucheux (batterie)
• Dominique Mahut (percussions)
• Guy Delacroix (basse)
• Patrick Rondat (guitare électrique).
Date and Place:
14 July 1995 - Eiffel Tower, Paris, France
Estimated Audience:
1,200,000
Em 1993, Jarre foi nomeado pela ONU, Embaixadora da Boa Vontade da UNESCO, por sua contribuição contínua para a Arts & Entertainment e por sua energia e talento em destacar vários aspectos culturais locais em suas apresentações ao redor do globo. No Dia da Bastilha 1995, em frente à Torre Eiffel, no centro de Paris, ele concebeu e realizou seu "Concerto para a Tolerância", celebrando o 50 º aniversário das Nações Unidas. O concerto começou com um viaduto da área de concerto, Champs de Mars, pelo prestigiado francês Exército Patrouille de France. A Torre Eiffel nunca tinha sido tão artisticamente iluminado: este incitou o Governo francês para dar marco da capital um efeito de iluminação permanente nova para o Milênio e que contiues hoje.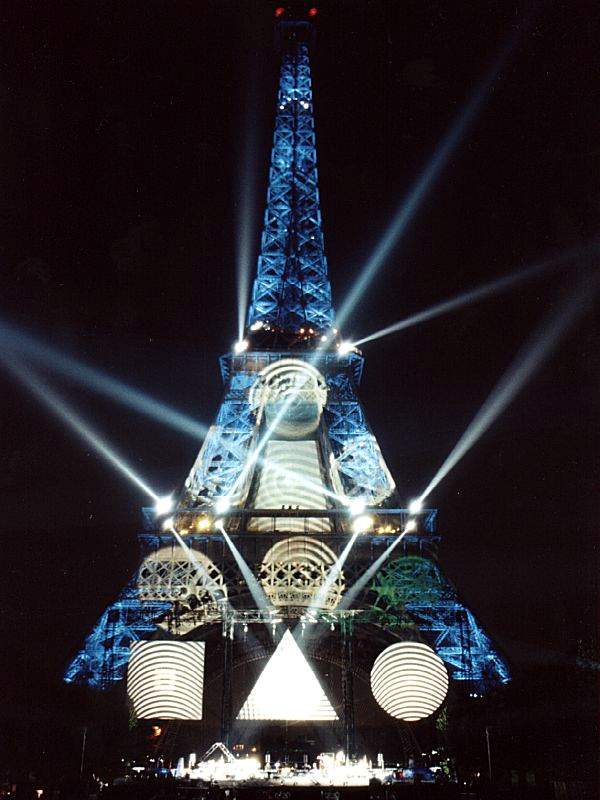 O concerto oferecido muitos dos maiores sucessos de Jarre, mas também algum trabalho menos conhecido, tais como a Revolução Industrial ... O tema geral, Tolerância, foi claramente expressa nas projeções gigantes visuais, e também com a presença ao lado de Jarre de Khaled, um megastar no mundo árabe.
www.youtube.com/watch?v=mqg7cRMuPZI
Compartilhar
15/03/2012 - Carregado por VientDeMee
Jean Michel Jarre - Concert Pour La Tolérance 1995 ( FullConcert ) ..... Jean Michel Jarre - Oxygene Live ...
19 publicações - 12 autores
Jean Michel Jarre - "Concert Pour La Tolerance (Paris - Tour Eiffel)" Год выпуска:1995. Жанр: Electronic Продолжительность: 01:44. Режиссер: Jean Michel ..
Place de la Concorde - 1979
14 July 1979, Place de la Concorde, Paris, France
Place de la Concorde, no centro de Paris foi o cenário para o show de Jean Michel Jarre ao ar livre o primeiro, em 1979. Embora ele já tinha dado concertos, juntamente com as bandas de rock que jogou com durante sua adolescência, em comparação com seus shows anteriores e os concertos convencionais do tempo, este concerto foi um desempenho completamente original, inovador. Ela foi acompanhada por projeções de luz gigantes e fogos de artifício. Place de la Concorde foi o primeiro de uma longa série de shows que Jarre ajudou a visualizar sua música e também abrir novos caminhos para concertos.
Em 14 de julho de 1979, o programa ambicioso atraiu um público estimado de um milhão de pessoas. Jarre estava sozinho no palco com seus sintetizadores, realizando Oxygene e Equinoxe, e o concerto foi importante no estabelecimento de um novo padrão. Ele também se tornou o primeiro de muitos Jarre-concerto para seqüestrar uma cidade inteira por uma noite.
www.youtube.com/watch?v=8QaCwjeMv9c
Compartilhar
13/02/2012 - Carregado por FoggyJoeBand
Jean Michel Jarre's first outdoor concert, at the Place de la Concorde held on July 14, 1979, celebrating ...
Ce sera la Place de la Concorde à Paris, un lieu urbain, un lieu historique et symbolique. Rien que ce choix assure l'originalité de l'événement. C'est surtout un ...
(EURL) cutecatfaith.com I had to sit for about 10 or 15 minutes on this famous plaza in Paris so ... If taking the underground train here, the number 1 line is good.