The Firm foram um supergrupo de rock britânica compreendendo ex Free and Bad Company cantor Paul Rodgers, guitarrista do Led Zeppelin Jimmy Page e do Manfred Mann's Earth Band e Uriah Heep baterista Chris Slade e o baixista Tony Franklin.
Page and Rodgers e originalmente queria ex-baterista Bill Bruford( Yes) e fretless baixista Pino Palladino no grupo, no entanto, Bruford foi contratada para outra gravadora e Palladino tinha compromissos turnê com o cantor Paul Young.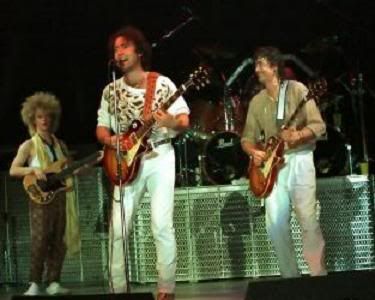 Tanto Page and Rodgers se recusou a jogar todo o material de suas bandas anteriores e, em vez optou por uma seleção de músicas firmes além de faixas de ambos os álbuns solo. As novas músicas foram fortemente infundido com um som soulful e mais comercialmente acessível, cortesia da guitarra fretless baixo de Franklin sustentam uma estrutura de canção discreto. Apesar de se recusar a jogar material antigo, a última faixa de The Firm, "Midnight Moonlight", foi originalmente uma canção de Led Zeppelin inédito intitulado "The Swan Song". Isso fez com que alguns críticos Acreditar que Page tinha começado a ficar sem ideias. Em entrevistas à imprensa subseqüentes, Page indicou que a banda nunca foi feito para durar mais de dois álbuns. Após a separação da banda, de Page e Rodgers voltou ao trabalho solo, enquanto Chris Slade juntou AC / DC e Franklin parceria com o guitarrista John Sykes no Blue Murder.
The Firm Live at Hammersmith 1984 (1984) (limited release video)
Five From the Firm (1986)
The Firm Live at Hammersmith 1984 (1984) (limited release video)
h
The Firm
Hammersmith Odeon
1984
Closer
City Sirens
Make Up or Break Up
Morning After
Together
Cadillac
Prelude
Money Can't Buy
Radioactive
Live In Peace
Midnight Moonlight
Lovin' Feelin'
The Chase
Jimmy's Solo
Chris's Solo
Someone To Love
Full Circle
Boogie Mama
Everybody Needs Somebody
****************************************************
16/08/2009 -

Download The Firm Live At Hammersmith Odeon 1984 DVD torrent or any other torrent from Other Music category. Direct download via HTTP ...

https://tpb.ipredator.se/.../The_Firm_Live_At_Hammersmith_Odeon_DV...‎

06/02/2011 -

The Firm Hammersmith Odeon,London 12/09/1984 Closer City Sirens Make Or Break The Morning After Together Cadillac Prelude Money ...




04/05/2007 - 8 postagens - ‎8 autores

The Firm

-

Hammersmith 1984

-

The Firm Hammersmith Odeon 1984

Closer ...Prelude Money Can't Buy Radioactive

Live

In Peace Midnight.

**********************************************************************************************************