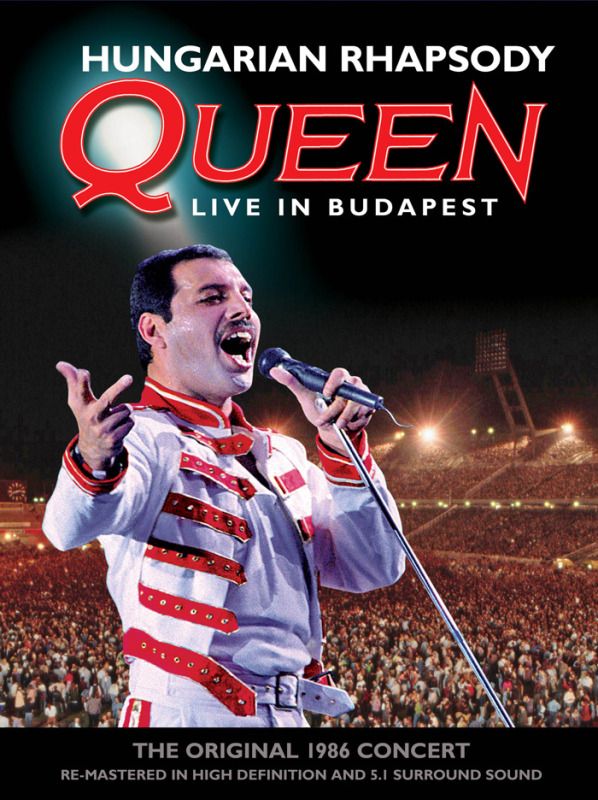 QUEEN 'HUNGARIAN RHAPSODY – LIVE IN BUDAPEST' WILL BE RELEASED ON DVD, BLU-RAY and DELUXE EDITIONS FOR THE FIRST TIME ON NOVEMBER 5th
Originalmente filmado em 1986, como parte da Magic Tour, Rapsódia Húngara foi re-masterizado em alta definição e apresentadas em som 5.1 surround. Há uma infinidade de configurações, incluindo DVD independente e autônomo Blu-ray, assim como um 2CD/DVD Deluxe Edition e um 2CD/Blu-ray Deluxe Edition.
"Estamos muito satisfeitos que os fãs do Queen de todo o mundo finalmente terá a chance de reviver este momento incrível para a banda. Sabíamos que um concerto de estádio em Budapeste foi inovador, mas não tinha muito o que antecipou uma noite histórica que viria a ser. O show parece fantástico na tela em toda a sua glória digitalmente remasterizado eo documentário faz um grande trabalho de criação da cena - realmente foi um momento extraordinário na história da banda "
Brian May e Roger Taylor.
Também estão incluídos no DVD e Blu-ray é um novo documentário 25 minutos, intitulado "A Magic Year". Isto segue o

Queen

de apenas após a sua histórica apresentação de roubo de desempenho no Live Aid, em Londres, em 13 de julho de 1985, até o ano que antecedeu ao show épico em Budapeste. Usando imagens de arquivo de ensaios, entrevistas com a banda no estúdio e na estrada durante a Magic Tour - alguns dos quais nunca foram vistas antes - esta característica fascinante foi especialmente criado para esta nova versão.
Como parte da Magic Tour de enorme sucesso de 1986 que, dolorosamente, foi o último a ser tocado pela banda com Freddie Mercury, Queen foram pela primeira vez capaz de incluir Hungria sobre a programação da excursão. Com três anos pela frente antes da queda do Muro de Berlim, este foi o maior já encenada no Népstadion, Budapeste, eo Rock Concert primeiro ocidental encenado em um estádio de trás da Cortina de Ferro, em seguida. Foi de tal importância para as autoridades húngaras e da indústria cinematográfica que um grupo de cinegrafistas do país filme Top e técnicos foram reunidos para filmá-la para a posteridade.
Encenado para 80.000 fãs em êxtase, o conjunto de concertos inclui sucessos favoritos como Bohemian Rhapsody, Little Thing Called Love louco, eu quero ser livre e We Are The Champions.
Running time: 118 minutes
Fo
rmats: DVD/ Blu-ray /Deluxe Edition: 2CD and DVD / Deluxe Edition: 2CD and Blu-ray / Digital Download (Audio)
DVD and Blu Ray Tracklisting:
3.

In The Lap Of The Gods
8.

Who Wants To Live Forever
13.

Tavaszi Szél Vizet Áraszt
14.

Is This The World We Created...?
18.

Crazy Little Thing Called Love
21.

Friends Will Be Friends
Extras:
'A Magic Year' documentary
Deluxe Package CD / Digital Download
CD Tracklisting: 1
3.

In The Lap Of The Gods... Revisited
8.

Another One Bites The Dust
9.

Who Wants To Live Forever
11.

Looks Like It's Gonna Be A Good Night - Improv
CD Tracklisting: 2
2.

Tavaszi Szel Vizet Araszt
3.

Is This The World We Created...?
4.

(You're So Square) Baby I Don't Care
5.

Hello Mary Lou (Goodbye Heart)
9.

Crazy Little Thing Called Love
12.

Friends Will Be Friends
################################################