VINEGAR JOE BAND
Vinagre Joe evoluiu a partir de Dada, uma peça-12 Stax de influência, jazz-rock fusion. Dada lançado um, álbum, homônimo, em 1970, com um line-up, incluindo o vocalista Elkie Brooks e Gage guitarrista Pete. O cantor Robert Palmer, ex-The Set Bown Alan, e o baixista Steve York, juntou-se tanto Dada depois que o álbum tinha sido gravado , e os quatro foram assinados por Ahmet Ertegun da Atlantic Records para EUA e Chris Blackwell da Island Records para o Reino Unido e resto do mundo para formar Vinegar Joe, em 1971, acrescentando o tecladista Dave Thompson. A banda estava sem baterista. Conrad Isidore e Rob Tait batidos no primeiro álbum. Sua estréia LP Vinegar Joe foi lançado em Abril de 1972, a Island Records nos registos do Reino Unido e os EUA em Atco.
John Hawken assumiu a partir de Thompson nos teclados e John Woods se tornou o baterista para os shows. Mike Deacon assumiu os teclados. Durante a gravação de seu segundo álbum, Rock'n Roll Gypsies, também lançado em 1972, Keef Hartley tocou bateria. O guitarrista Jim Mullen também se juntou à banda para este disco e ficou jogado na turnê pelos EUA. O baterista Pete Gavin entrou para a banda antes da turnê pelos EUA e gravação de seu terceiro e último álbum Geral Estrela de Seis lançado em 1973. A banda dissolveu-se na primavera de 1974. Alan Powell tocou bateria durante as semanas finais da banda.
Apesar de nunca Vinagre Joe alcançado recordes de vendas significativos, eles receberam a cobertura da imprensa considerável e fez várias turnês, tocando numerosos concertos sell-out, especialmente no circuito universitário britânico.
Posteriormente, Brooks e Palmer passou a desfrutar de sucesso como músicos individuais. Gage se tornou um produtor musical e arranjador, trabalhando com Brooks, sua esposa, até que seu divórcio, e uma série de músicos de sucesso, como Joan Armatrading e especializado em rockabilly próximo e bandas punk como Restless, Kurt King e outros.
Elkie Brooks: vocals (1971-1974)
Pete Gage: guitars (1971-1974)
Robert Palmer: vocals (1971-1974)
Steve York: bass (1971-1974)
Dave Thompson: keyboards (1971-1972)
Conrad Isidore: drums (1971-1972)
Rob Tait: drums (1971-1972)
John Hawken: keyboards (1972)
John Woods: drums (1972)
Mike Deacon: keyboards (1972-1974)
Keef Hartley: drums (1972-1973)
Jim Mullen: guitars (1972-1974)
Pete Gavin: drums (1973-1974)
Alan Powell: drums (1974)
Additional musicians
Dave Brooks - tenor sax
Tim Hinkley - keyboards
Nick South - bass
Gasper Lawall - percussion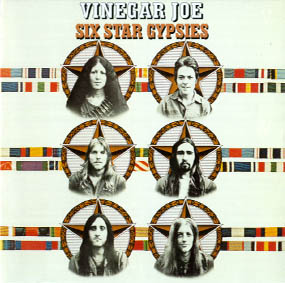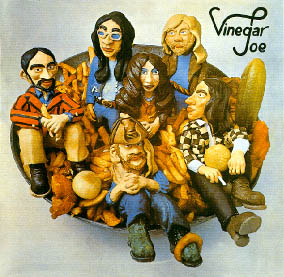 Albums:
Vinegar Joe (Island Ilps 9183) 1972
Reissued on CD by Edsel, EDCD566, 1998Rock'n'roll Gypsies (Island Ilps 9214) 1972
Reissued on CD by Lemon, CDLEM15, 2004 and Island, IMCD 93, 1990Six Star General (Island Ilps 9262) 1973
Reissued on CD by Lemon, CDLEM3, 2003
Compilations:
Speed Queen of Ventura: An Introduction to Vinegar Joe, Island, IMCD292, 2002
Six Star Gypsies, Edsel, EDCD359, 1993
45s:
Never Met A Dog/Speed Queen Of Ventura (Island WIP 6125) 1972
Rock'n'Roll Gypsies/So Long (Island WIP 6148) 1972
Black Smoke From The Calumet/Long Way Round (Island WIP 6174) 1973
Author: PBTHAL VINYL RIPS
Date: 2011-09-16 04:41:53
Vinegar Joe - Rock'n'Roll Gypsies
Vinyl rip in 24-bit/96kHz | FLAC | Artwork
900 MB | FSc + WU | Rock| 1972
Original US Pressing
Vinegar Joe evolved out of Dada, a 12-piece Stax-influenced, jazz-rock fusion band.Their second album, Rock'n Roll Gypsies, also released in 1972, Keef Hartley played drums.
Author: flac jacket
Date: 2012-07-20 06:24:46
Vinegar Joe - Six Star Gypsies (1993)
EAC Secure Rip | FLAC (Image + Cue + Log) - 357 MB | Complete Scans (Jpeg 600 dpi) - 81.5 MB | MP3 (CBR320 Kbps) - 133 MB
Rock, R&B, Blue-Eyed Soul | Demon Records | EDCD 359 | 54:50 minutes | 5% WinRar Recovery | Hosted on: FilePost
A 13-song CD assembled from the best tracks off of Six Star General and Rock 'n' Roll Gypsies, the band's second and third albums, respectively. Elkie Brooks tries hard to be like a kind of white version of Tina Turner, and doesn't do badly, and the playing is first-rate; the band's rhythm section was always solid no matter who was in it, and Gage's guitar work was lithe and aggressive. The songs are all good, ranging from searing R&B to straight-ahead rock & roll, and the recordings provide a glimpse of the kind of surging, energetic performances that made their shows a major attraction -- it's a pity there aren't any live tapes.
Reviewed by Bruce Eder allmusic.com
Elkie Brooks and Robert Palmer
#############################################################################