AYNSLEY LISTER
Lister começou a tocar guitarra aos 8 e tocou seu primeiro concerto aos 13 anos. Ele aprendeu a tocar guitarra tocando junto a seu pai. ouvindo os 45's
de Freddie King, John Mayall e Eric Clapton.
Até o momento ele tinha 18 anos, tendo já estado em várias bandas, ele formou a sua própria, que gravou dois álbuns: Messin' With The Kid (1996) and Pay Attention! (1997).Três números escritos por Lister, no segundo álbum, atraiu a atenção de
Thomas Ruf da gravadora
Ruf Records
'.
Em 1998, eles assinaram um contrato de gravação e Lister gravou seu primeiro álbum major,''
Aynsley Lister'', produzido por Jim Gaines.
As faixas eram composições principalmente de Lister, e o álbum contou com a participação especial de Walter Trout.
O álbum levou a turnê pela Europa e trabalhar com alguns dos melhores guitarristas de blues atuais.
Enquanto a música de Lister é baseada blues, seu próprio material incorpora influências contemporâneas com ritmos mais forte e trabalho de guitarra, que relembram início de Eric Clapton.
Depois de seu primeiro álbum Lister começou abrindo para artistas como Buddy Guy, Robert Cray, John Mayall e contemporâneos como Bryan Adams e Fun Lovin Criminals. Tendo-se tornado mais conhecida, ela agora manchetes grandes festivais na Europa. Ele tem duas vezes o Air Heitere Aberto na Suíça, para 12.000 pessoas e em 2006 ele interpretou o palco principal do Blues Festival Bayfront, MN. Mais tarde, naquele ano, ele foi convidado a sentar-se com Delbert McClinton em The Blues Festival Pinedale em Wyoming, onde Delbert mantido Lister no palco para toda a segunda metade de seu show. Tudo Lister álbum de 2000 I Need foi sua estréia lançamento nos EUA, em 2006, em preparação para uma turnê pelos EUA, e recebeu aclamação da crítica. Seu album ''Everything I Need''(2000), foi sua estréia lançamento nos EUA, em 2006, em preparação para uma turnê pelos EUA, e recebeu elogios da crítica.
Lister também gravou com Jesse Davey da banda de blues Inglês The Hoax em Everything I Need (2000) and All Or Nothing (2002) ambos produzidos por Greg Haver (Manic Street Preachers, Catatonia). Lister álbum de estúdio o quarto, e seu primeiro a conter apenas material original, foi em 2007's Upside Down que Lister produziu-se. Em junho de 2008 Lister mudou para ARM Management e assinou contrato com a Manhaton Records em agosto de 2008, lançando Equilíbrio em março de 2009. Equilíbrio foi produzido por Steve Darrel Smith e Robbie McIntosh características, Beavis e Paul Simon Johnson.
Em maio de 2009, Lister abriu para Lynyrd Skynyrd nas datas do Reino Unido de God and Guns tour.
| Year | Title | Label |
| --- | --- | --- |
| 1996 | Messin' with the Kid | Tasty Records |
| 1997 | Pay Attention! | Tasty Records |
| 1999 | Aynsley Lister | Ruf Records |
| 2000 | Everything I Need | Ruf Records |
| 2002 | Supakev 'n Pilchards | Ruf Records |
| 2002 | All or Nothing | Ruf Records |
| 2004 | Live! (and DVD) | Ruf Records |
| 2005 | Pilgrimage (and DVD) as part of Blues Caravan | Ruf Records |
| 2007 | Upside Down | Ruf Records |
| 2009 | Equilibrium | Manhaton Records |
| 2010 | Tower sessions | Manhaton Records |
AYNSLEY LISTER
TOWER SESSIONS
Até o final da turnê de 2009, Aynsley e sua banda estavam soando em sua melhor forma de sempre. A adição de teclas para o line-up tinha coisas realmente refrescou e deu Aynsley uma nova liberdade encontrada. Não mais ter que se preocupar preenchendo o som, Aynsley foi capaz de tocar mais melodicamente e expressivamente. Esta abordagem desenvolvida extensivamente ao longo do ano, e no final do passeio das coisas foram realmente cozinhar. Aynsley senti que esse era o momento perfeito para capturar o conjunto ao vivo, para produzir uma declaração ideal de como a banda evoluiu, dando nova vida a algumas das faixas clássicas do repertório extenso de Aynsley.
The Tower

Sessions

é de fato um "Greatest Hits Live" álbum. Uma coleção de 11 músicas, que Aynsley tem realizado em palcos de todo o mundo ao longo dos anos. Mais importante ainda, o álbum inclui a primeira gravação da trilha de seus fãs favorito, uma versão verdadeiramente estelar de Purple Rain de Prince.
www.youtube.com/watch?v=WyTnUbxdgbA

25 Ago 2010

-

10 min

-

Carregado por goingdown3121


One of my favourite albums. Bluesrock which goes under the skin. Please visit www.aynsleylister.co.uk and ...
Gravado em janeiro de 2010, no The Winchester Tower, totalmente ao vivo, sem overdubs ou truques de estúdio,

The Tower

Sessions

é um excelente exemplo de Aynsley e sua banda no seu auge: Fresco da estrada, com esse fim `de aperto tour 'que realmente traz as canções para a vida.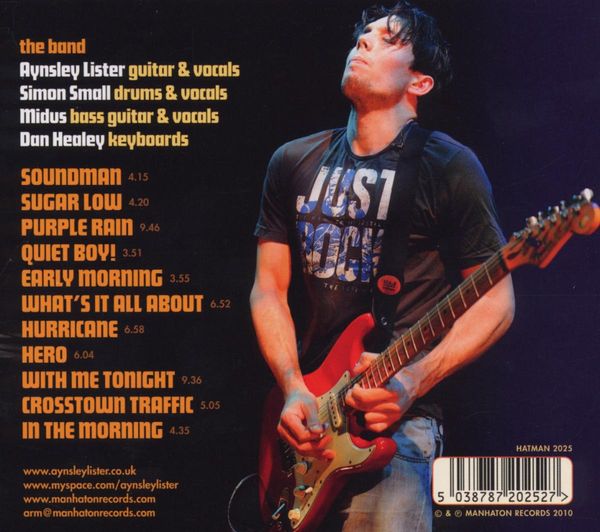 Artist
: Aynsley Lister
Title Of Album
: Tower Sessions
Year Of Release
: August 10, 2010
Label
: Manhaton Records
Genre
: Blues, Rock
Quality
: Mp3
Bitrate
: avg. 202kbps/ 44,1kHz
Total Time
: 66:57 min
Total Size
: 101 MB
WebSite
:
aynsleylister.co.uk
TRACKLIST
01. Soundman 04:13
02. Sugar Low 04:18
03. Purple Rain 09:44
04. Quiet Boy 03:49
05. Early Morning 05:53
06. What's It All About 06:50
07. Hurricane 06:56
08. Hero 06:02
09. With Me Tonight 09:34
10. Crosstown Trafic 05:03
11. In The Morning 04:35
Results 1 - 6 of 6 –

Aynsley lister tower sessions free download - Aynsley Lister Tower Sessions 2010 UBE,Aynsley Lister Tower Sessions 2010 UBE,Aynsley ...
29 Jul 2010 –

Artist: Aynsley Lister Title Of Album: Tower Sessions Year Of Release: August 10, 2010 Label: Manhaton Records Genre: Blues, Rock Quality: ...
Aynsley Lister - Hurricane - Tower Sessions
UM BOM MOMENTO
###############################################################