TRÄD GRÄS & STENAR
TRÄD GRÄS & STENAR ("árvores, grama e pedras") é uma banda de rock sueca formada em 1969. O grupo foi um dos atos de frente da cena progg sueco, embora visivelmente menos política que seus colegas contemporâneos.
A banda Pärson Sound foi formado durante o verão de 1967, em seguida, consistindo de Bo Anders Persson (guitarra), Thomas Tidholm (vocais, saxofone, flauta), Arne Ericsson (violoncelo), Yman Urbano (violino), Abelli Torbjörn (baixo) e Thomas Mera Gartz (bateria). Esta constelação, que estavam tocando um estilo experimental de rock psicodélico nunca lançado quaisquer registros oficiais, embora uma coleção de gravações de 1967-1968 foram lançadas como o duplo CD Pärson Sound (1967-68), em 2001, e como um LP 3 Deluxe box set em 2010. Em agosto de 1968 a banda mudou seu nome para "International Harvester" e mais tarde no mesmo ano seu primeiro álbum Sov gott Rose-Marie foi lançado. Em 1969, o nome foi encurtado para "Harvester", em que o álbum foi lançado Hemat.
No verão de 1969 a banda reformada comoTräd, Gräs & Stenar, que consiste agora de Bo Anders Persson, Abelli Torbjörn, Ericsson e Arne Mera Thomas Gartz. 1970 viu o lançamento de seu álbum auto-intitulado Träd, Gräs & Stenar, às vezes chamado de "álbum verde", que incluiu covers de Bob Dylan "All Along the Watchtower" e da canção dos Rolling Stones hit "(I Can't Get No) Satisfaction".
Com sua mistura trance-evocação de blues-rock e folk psicodélico, Träd, Gräs & Stenar Desempenhou um papel central no desenvolvimento do rock progressivo na Escandinávia nos anos 70. Eles também foram um dos exemplos maiores, e melhor som, da idéia de que o público deve participar da música. Träd, Gräs & Stenar foi formada em 1969 por Gartz, Abelli, Ericsson, e Persson, remanescentes da International Harvester, e lançou um álbum de estréia auto-intitulado em 1970. Nesse mesmo ano escreveu a música para o filme Gamla Du Du Fria, mas permaneceu essencialmente uma banda ao vivo.
Não só eles executam melhor ao vivo do que em disco - mesmo um programa que apontou interação ao vivo com o público como o principal objetivo. Träd, Gräs & Stenar representava uma união da arte com a política e artistas com o público. Praticamente, que resultou em concertos foram o público participou da música, como pode ser ouvido em Spela Själv. Esta também foi uma das ideias por trás das festas ilegais em Gärdet que a banda iniciou. Guitarrista Sjöholm juntou em 1970 e os primeiros anos da década veio a ser muito produtivo para Trad, gras & Stenar. Eles fizeram uma turnê em toda a Escandinávia, participou de vários festivais, eventos e protestos, e lançou o ao vivo LPs Lag Djungelns e Mors Mors em 1971 e 1972, ambos os problemas de som com graves. O álbum de rock para Kropp Och Själ com sua faixa título de 20 minutos de duração, foi lançado em 1972. Sentindo-se cada vez menos apoio para sua idéia de uma arte orgânica anarquismo e teria também a ter problemas com a polícia por causa da quantidade de drogas em seus shows, eles decidiram dissolver a banda mais tarde no mesmo ano.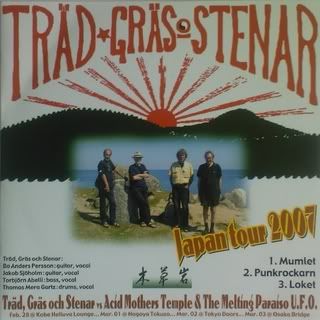 Träd Gräs & Stenar - Live Kafe 44 Stockholm 13/5-2000
A banda soa magnífico, até hoje. Com o novo guitarrista Reine Fiske e Sigge baixista Krantz parece um novo recurso para se introduziram com, uma espécie de riqueza de recursos no pequeno - além das longas linhas que ainda são a principal coisa.
Träd, Gräs och Stenar - Swedish Natural Music, improvised and boundless - the official website.
Träd Gräs och Stenar's official profile including the latest music, albums, songs, music videos and more updates.
www.youtube.com/watch?v=OnQgKjdwc9A

20 Jul 2011

-

27 min

-

hansenradiosatelite




Álbum: Live from Möja to Minneapolis (2007)

www.youtube.com/watch?v=ykiWzyPHgsE

6 Jun 2012

-

23 min

-

ElSatoriRadio


TRÄD GRÄS OCH STENAR - Rock för kropp och själ ... Träd Gräs & Stenar - Sommarlåten (live 1972)by ...

www.youtube.com/watch?v=1sF2LdPyd7o

21 Dez 2007

-

3 min

-

ensaminatt




Álbum: Trad Gras Och Stenar (1970)

TRAD GRAS OCH STENAR is a Psychedelic/Space Rock / Progressive Rock artist from Sweden. This page includes TRAD GRAS OCH STENAR's : biography, ...

####################################################